Goran Kova?evi?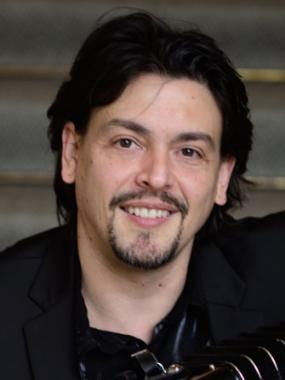 Goran Kova?evi? was born in Schaffhausen (Switzerland) in 1971. He received his first lessons from his mother Mara at the age of 6. As a child of Yugoslav emigrants, Eastern European folklore was his first musical reference. Goran Kova?evi? dealt intensively with the folklore of Eastern European countries and deepened his accordion playing with Ljubisa Pavkovi? and Vladeta Kandi? "Bata Kanda" in Belgrade. Later followed studies at the Conservatory Winterthur (Switzerland) and at the Staatliche Hochschule für Musik in Trossingen (Germany) with Prof. Hugo Noth. Master classes in Salzburg, Florence, Moscow, Weimar and Toronto complemented his artistic training.Goran Kova?evi? is a prizewinner of several international competitions: Coupe Mondiale, International Accordion Competition Klingenthal, Mozarteum Salzburg, DAAD Prize Bonn, Junge Ohren Preis Berlin and others.
He is a specialist in accordion at the Universities of Lucerne and Bern and regularly judges at the Coupe Suisse de l'Accordeon and Prima la musica in Austria. Since 1999 Goran Kova?evi? has been Professor of Accordion and Chamber Music at the State Conservatory in Feldkirch (Austria). As a soloist and chamber musician in various ensembles, his concert tours have taken him through Europe, America and Asia.
Goran Kova?evi? composed theatre and film music for accordion with string quintet, wind instruments, choir, and symphony orchestra. To date, 44 CD's have been released with works from classical, modern, Balkan folklore, virtuoso U-music, world music, jazz and tango nuevo.